After coming home from Panama via Costa Rica, I drove cross-country to start work in the Pacific Northwest for the Institute for Bird Populations (IBP). I had a great time driving cross-country, visiting with Tim in Ithaca, George and Jenn in Milwaukee, Lisa and Aidan in Chicago, Anna, Dawn, Deneb, Jason, and the HawkWatch International gang in Salt Lake City, and Frank and Mary Anne in Elko.
My job with IBP is to band birds for the summer in a national forest in the Pacific Northwest. Ten other interns and I showed up for training in Grant's Pass, Oregon, where our biologists Bernie and Tim taught us the fundamentals of banding birds. Here's a picture of Bernie showing Will and Chris how to determine the age an Ash-throated Flycatcher: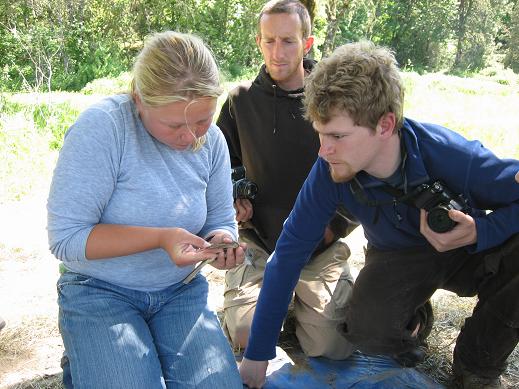 After two weeks of training, the 11 interns were split up into pairs of two to set up and band sites across Oregon and Washington. Now many of you might be thinking that splitting 11 into groups of two is mathematically difficult, some might say impossible. The twelfth intern showed up a week after training and was trained one-on-one by one of the biologists. I was picked to cover for this twelfth intern and to band his site for a few weeks while he was trained. So, I spent almost three weeks banding in Siuslaw National Forest on the Oregon coast. The coast was nice; not many people get a commute like this: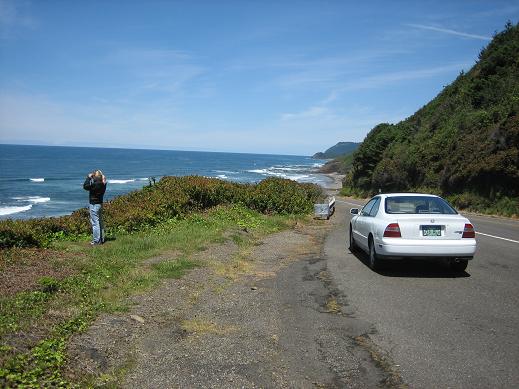 After the twelfth intern was trained, I drove north to Wenatchee NF where I have spent the rest of the summer. I live in a dumpy forest service bunkhouse 21 miles from cell phone service and 40 miles from the internet. Needless to say, it's tough to stay in touch out here! The work is good and our banding sites are cool; here's a picture of one of the sites where we work: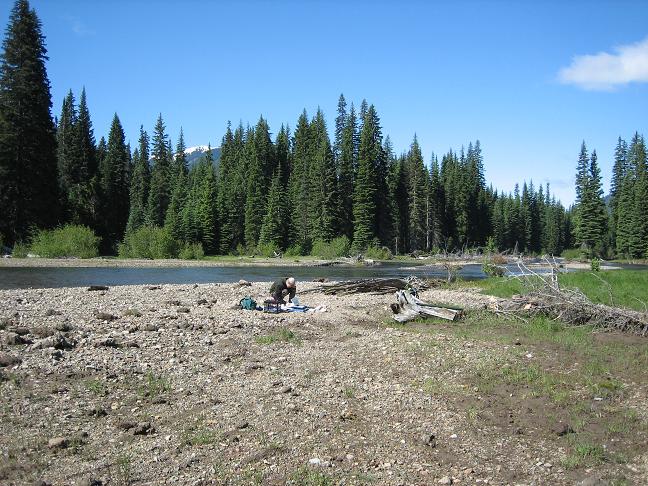 Our work schedule is standard for birding jobs: we get up at 3:30 A.M. so we can be at our banding site before sunrise. We work the first six hours of daylight, and are usually home before 1:00 P.M. The protocol requires that we band our six sites in Wenatchee NF every 10 days; as long as weather cooperates (i.e. no rain or high winds) we can get our work done in the first six days and have four days free at the end of each period. During our free days, Chris and I have been meeting up with some of the other interns and exploring this part of the country.
On our first days off, Chris and I went to Mount St. Helens and the mouth of the Columbia River. On our way through the Mt. St. Helens area, we tried to cross a high mountain pass. We didn't see anyone on the road until we came across two guys from Utah who had gotten their very large diesel Dodge Ram truck stuck in a snow drift. Luckily for them Chris and I came along, and using the ropes and equipment in their truck, we managed to tow them out of the drift.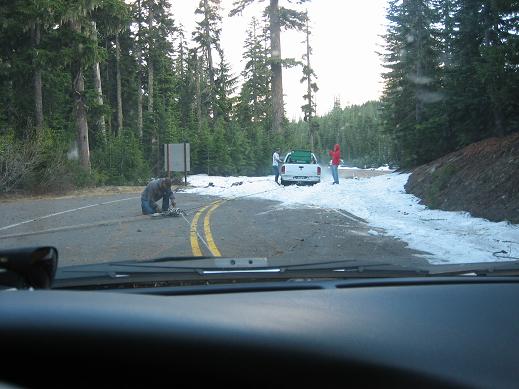 Obviously after seeing that we decided the road was impassible and we took the long way around to Mt. St. Helens. We saw part of the mountain, but fog prevented us from seeing the crater. The best part of our whole trip might have been the free camping we did in Mt. St. Helens National Forest. Here's one "site" we found off of a forest service road: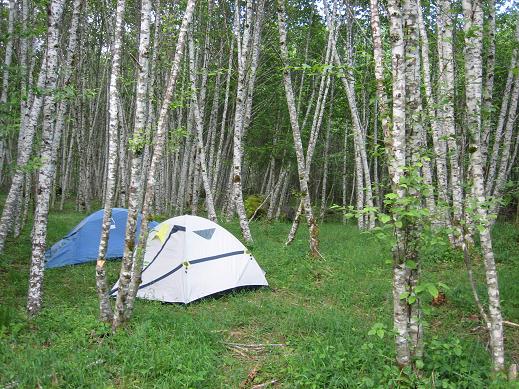 We also explored a cool lava tube, which is basically a cave formed by lava. The tube was over a mile long- quite a fun hike.
On our next days off we headed to Olympic National Park, where we met up with Jaime from Siuslaw National Forest, and Corinne and Amelie from Umatilla National Forest. Inside Olympic National Park is the Hoh rainforest. There were some huge trees there, and the forest was dense and lush: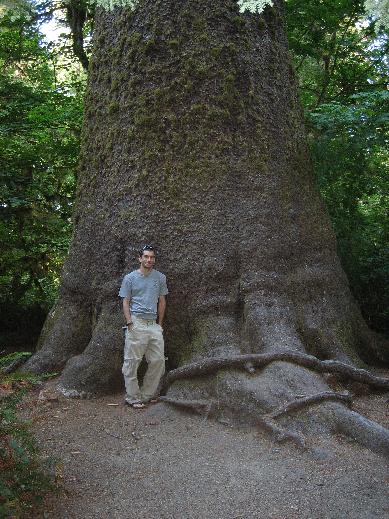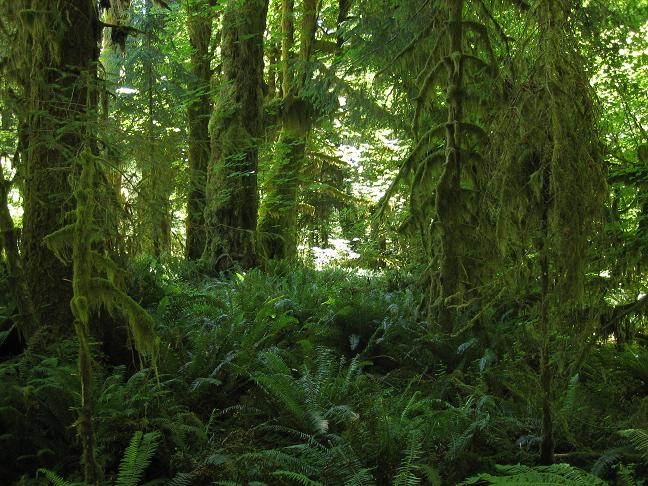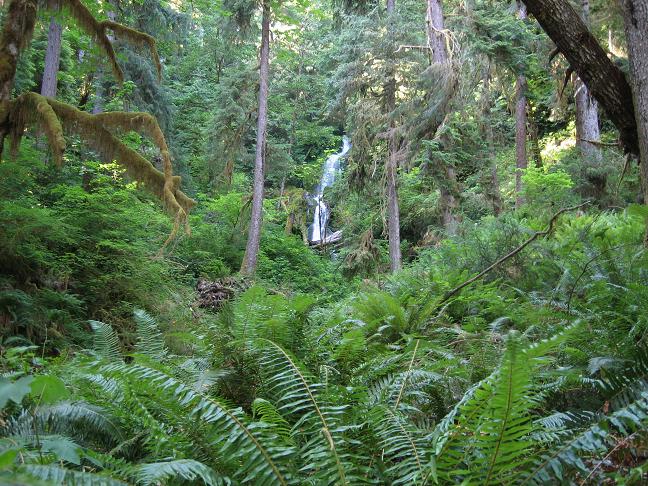 The following break, Chris and I met up with Jaime, Corinne, Amelie, and Will and Mel from Fremont National Forest. We all met up in Malheur National Wildlife Refuge. As we got to Malheur, Chris, Jaime and I did some birding. Along Malheur Lake, we stopped to bird and we heard what sounded like a bird trapped inside one of the carp traps on the lake. We opened the trap, and sure enough there was a Clark's Grebe trapped inside. We climbed inside, and eventually the Grebe came close enough so Chris could grab it by the neck. We let the grebe go on the lake and went on our way.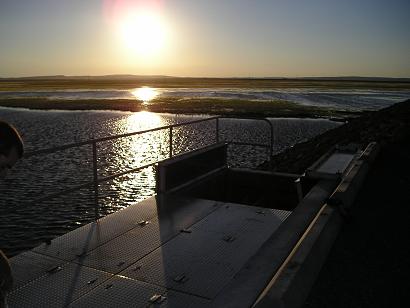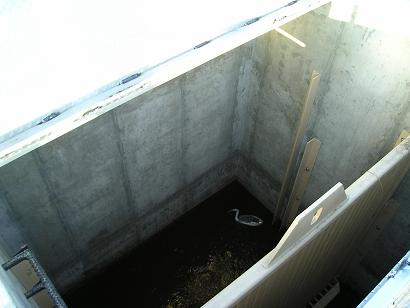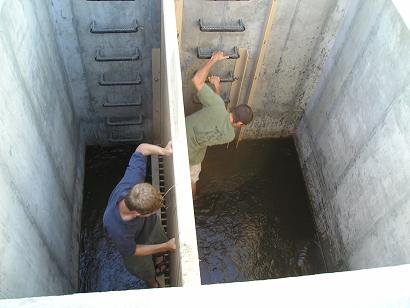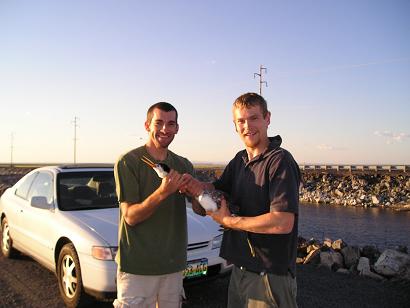 We weren't far from Fremont, so we went and spent a day with Will and Mel at their cabin in the forest: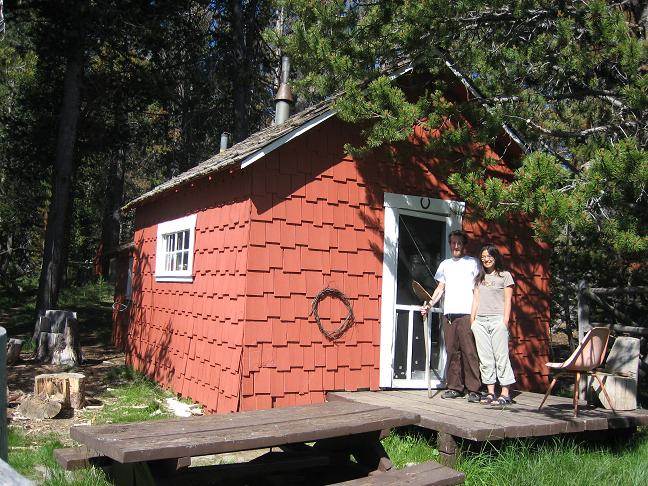 Mel: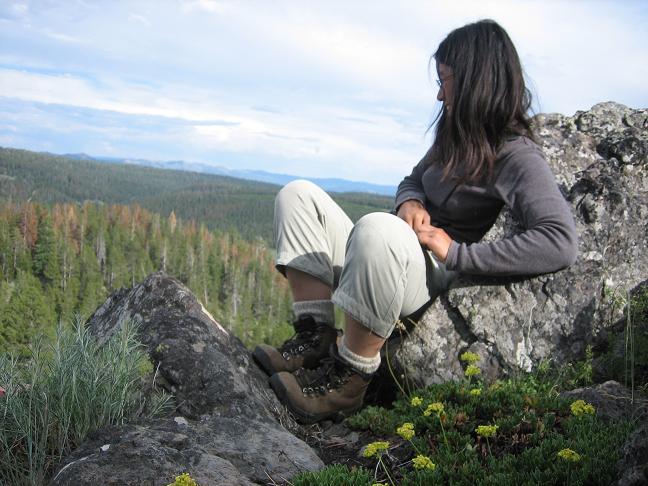 Here are some pictures from work.
One of our nets we use to catch birds: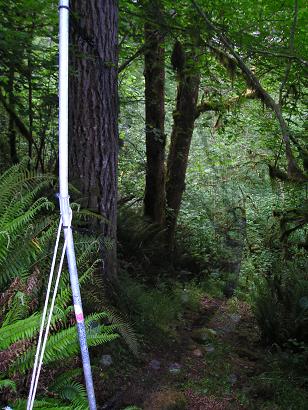 Chris extracting a pair of Evening Grosbeaks: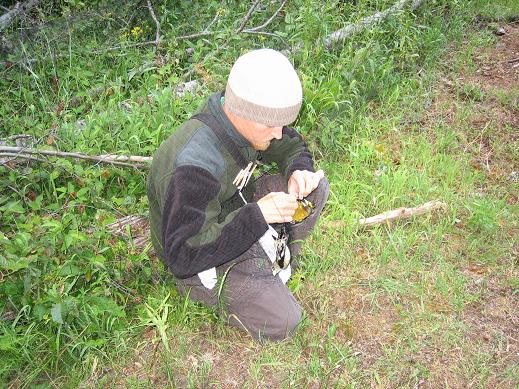 Williamson's Sapsucker: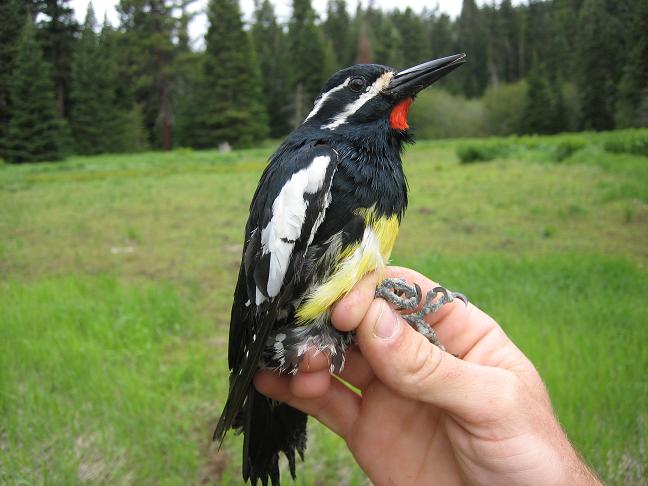 A pair of Townsend's Warblers: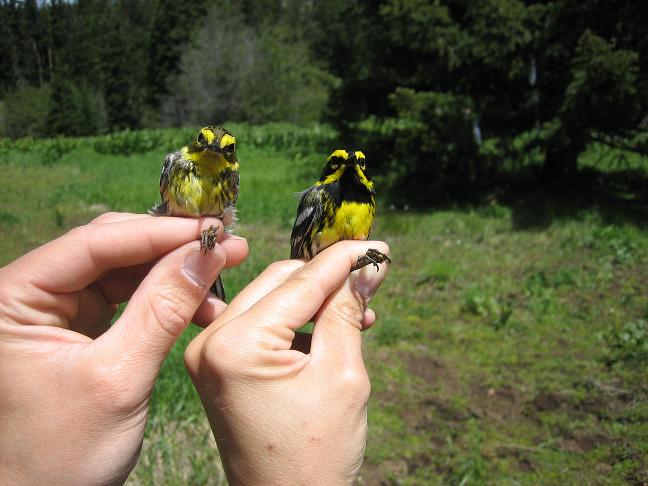 A Northern Flicker, Red-shafted race: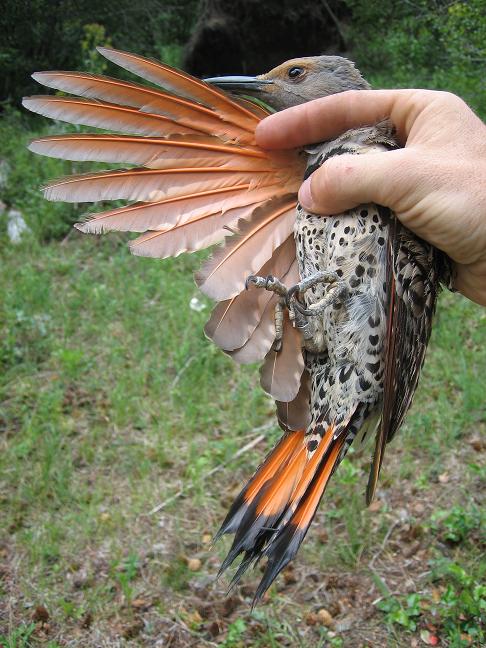 Rufous Hummingbird tails: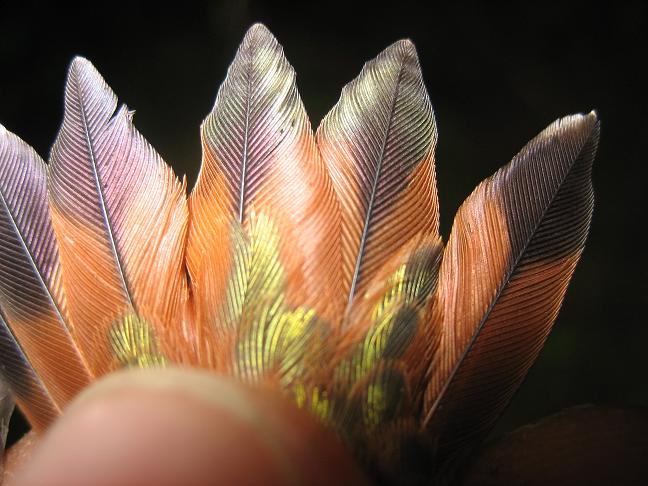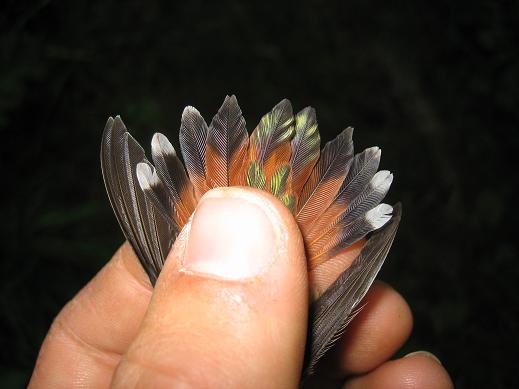 (I'm into tails of hummingbirds in the Selasphorus genus because many guides, including Sibley, are unclear on them).

Chipping Sparrow for Steve: